Download ZiniTevi apk Latest v1.1.7 free for Android Mobiles & Tabs
ZiniTevi APK v1.1.7 download – Zinitevi is an emerging mobile Media app that hosts thousands of Movies and TV shows. The best thing about the Zinitevi app is that you can watch and download Movies and TV shows for free. When you use this app it only consumes your data, so, you only have to worry about the internet bill.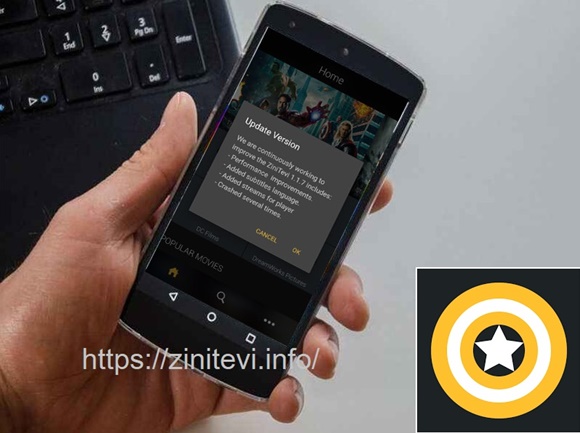 The Zinitevi movie app is compatible with both Android and iOS platforms. Further, you can make it work on PC and Smart TV with a few easy procedures. This movie app is an arsenal of different genres such as Action, Romance, Horror, Thriller, Drama, Comedy, Sci-Fi, and Adventure. In addition, you may also find Cartoon and child-friendly Anime shows.
ZiniTevi APK v1.1.7 Download

ZiniTevi iOS v1.1.3 Download

Zini Tevi Alternative App Download
MediaBox HD Latest Version Download

Zini tevi is an ideal solution for all the Movies and TV show lovers who can't afford paid services like Netflix. Internet is full of fraudulent apps that claim to offer free movies to stream online or to download them with fast server speeds. If you are tired of getting click-baited by these scam apps then you need to take a break.
A break that will allow you to reconsider all the options. You may have landed on this page out of curiosity to know what Zinitevi is. Don't stop reading until you know what you must know.
What is new in the latest version?
Zinitevi movie app is relatively new in the realm of apps that are dedicated to serving users with the media content. However, the Zinitevi app is a platform that is advancing rapidly, with many benefits for its users. The developers of the Zinitevi project are working hard to create the optimal version and this effort is backed by a growing community of Zinitevi.
The latest version of Zinitevi APK v1.1.7 and iOS v1.1.3 comes with some noticeable improvements and enhancements. Now it consumes even less space about 100MBs, it also takes less time to load and this leads to buffer-free experience.
Features of Zinitevi App
Zinitevi serves its users with varying levels of resolution. The app provides links to hosting sites where you can find media content within a range of 360p to 1080p. You can watch and download these videos without any deterioration of picture quality.
Zinitevi app is versatile in its selection of subtitles in 15 different languages such as English, Spanish, German, etc.
To sum up this version includes
Performance improvements
Added subtitles language
Added Streams for player
Fixes for several crashes.
This movie app doesn't force you to purchase anything, unlike other tricky apps that do so after you download them. No registration process requires you to submit your email and create passwords. Once you download the app you can enjoy all the content straight away.
Some non-google Playstore or 3rd party apps ask you to root or jailbreak your device to perform the installation. However, the Zinitevi app is free from all such annoying experiences. You can download the apk or iOS file and install without any extra procedure
You can use different media players like MX, VLC, and others so that you can play the videos in any player of your choice.
Casting to other devices is also possible as Chromecasting is enabled in the app
Zinitevi app uses the sliding window to let you use other apps at the same time
The user interface of the Zinitevi app is designed to facilitate easy navigation and efficient access. As there are filters to customize the movies and shows you can quickly sort the content according to rating, names, year, Genre, and quality.  Zinitevi is simple in outlook and tempts users to immerse in movies and shows
Unlike other free movie apps with old movie content, Zinitevi delivers the latest Movies and Shows. The app is updated with links to the latest movies and shows regularly. You will never feel bored when using the app.
Zinitevi app contains a profuse collection of multiple server links for the same files so that you can use any link and stream videos at high speed and better quality.
Conclusion
Zini tevi movie app is one of those rare programs that comprises almost everything a movie fan can hope for. With its free label, it attracts a growing number of users every day. Zinitevi is a hassle-free way to watch or download HD quality movies. Since there is no annoying registration, sign up process, or the need to become a member to watch content, Zinitevi can be the possible alternative to your paid movie site.
As the app supports multiple languages and multiple devices, all kinds of users can enjoy the app. We recommend you to install the latest update so you can benefit from all the new enhancements.