Download latest iOS version for iPhone, iPad, iPod Touch & Mac
Zinitevi movie app is compatible with devices running Apple iOS. Now you can enjoy free movies with Zinitevi on your iPhone, iPad, and iPod touch screen without performing Jailbreak. Zinitevi is your ideal movie app with access to a humungous collection of both movies and TV shows belonging to a broad spectrum of genres.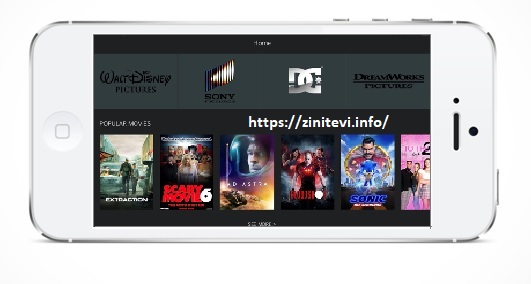 You can watch HD quality movies and shows on your apple device completely free of cost. Here you get 720p and 1080p resolution media which would play gorgeously on your apple device. The app is optimized to function well on the iOS platform, therefore, you don't need to worry about compatibility issues. Another best thing is new updates are frequently released for the Zinitevi movie app so that it is fine-tuned to work with all enhanced features of your apple device.
You can watch and download HD movies on your Apple device by using the Zinitevi app. It is only a matter of seconds before you locate your favorite movie via this app because you get a simple and clear navigation design. You get multiple fast streaming links to view movies or shows, and options to download them with fast servers.
There is multiple-language support in Zinitevi app along with subtitles sourced from various sites. The app lets you build your favorite list, and further, it has a record of your media browsing in the history section. You can sync history and favorite lists to the cloud.
You may feel the Zinitevi Movie app as if it is following a minimalist tradition because you do not see countless pages, panes, tabs, and buttons with various functions. The app has preserved simplicity to ease user interaction. It is thus a unique trait of the Zinitevi movie app.
Many Apple users happen to override their system's limitations when installing third-party apps like Zinitevi as they are unsupported by Apple security framework. Jailbroken Apple devices may run into complications such as compromise of security, system instability, and update issues.
And it seems unwise to perform a jailbreak for the mere purpose of installing an app. However, the Zinitevi app doesn't require such a daring action to be installed on the iOS platform. There are two main methods to do this: you can install the Zinitevi app by using a computer (Cydia Impactor Method) or install the app directly on the apple device without using a computer.
ZiniTevi iOS latest version Download

Either way, you do not invalidate or brick the apple security. Naturally, you will go for option two where you can directly get the app working on your apple device. Zinitevi movie app supports iOS 8, iOS 9, iOS 10, iOS 11, iOS 12, and the latest iOS 13.
Always use trusted links to download the Zinitevi iOS file because there are so many links that lead to installation files injected with malicious code. We provide you the best installation files to download for your Apple device.
Find the latest version Zinitevi iOS installation file below. Click on the given link to download the Zinitevi iOS file on your apple device. Tap install on message prompt "would you like to install Zinitevi". After installation Zinitevi iOS app icon will appear on your Home Screen.
Then you have to perform the trust action without which the iOS platform would refuse to launch the installed app. To do this Navigate to Settings > General > Device Management. Find the newly installed Enterprise App Certificate and Trust it.
Finally, you can run the Zinitevi app on your apple device. In the event of an app crash or failure to launch please reinstall and try again. The only issue may be with third-party app installation on an Apple device that gives certification revoke problems. Most of the time reinstalling solves the problem.